Karla Krengel Hood is a 3rd generation, Kitchen & Bath Industry entrepreneur at the helm of Krengel & Hood; Krengel & Hood represents Kitchen & Bath Industry products for fine living.
Karla has grown up in the industry and worked alongside her father at Krengel & Associates, the Wood-Mode representative for IL, IN & WI. While she was at the helm, Krengel & Associates maintained their ranking as a top sales territory and were lauded for the support of their dealers. While obtaining top level sales, supporting programs included dealer training seminars she planned and implemented. Additionally, she successfully envisioned, planned and executed the manufacturer's Facebook page, created and implemented targeted and demographic specific Facebook ads to build awareness & "Likes" of the page, and had a Social Media app built for the dealers.
Prior to this, via Krengel Media, Karla assisted kitchen dealers from around the country in obtaining media coverage and placements for their businesses. She wrote articles on kitchen / bath / design / cabinetry trends for publications such as: Chicago Home & Garden, Mountain Living Magazine, the NKBA magazine and various local newspapers. "Internet Connections," was a quarterly column, developed specifically for her by Eliot Sefrin, Editor and Publisher of Kitchen & Bath Design News magazine. She wrote for this publication for 12 years on the topic of Internet marketing, specifically educating the dealer / designer knowledge base.
Karla was the "face" of Kitchens.com, on the front lines selling Web sites to kitchen dealers and assisting her brother in establishing the company. To this day, she holds the record for the most clients closed within a 30 day period. While at Kitchens.com, she traveled North America for the NKBA as a featured speaker for local NKBA chapter meetings, in addition to speaking at several Kitchen & Bath Industry Shows (K/BIS). She educated dealers on how Web sites and Internet marketing specifically applied to their businesses.
Karla's recent work within our industry also includes:
• Karla was selected to sit on Jenn-Air's Design Advisory Council in 2010 with 11 other members of our industry (eg: Ellen Cheever, Mort Block, Mary Jo Petersen). Jenn-Air has tapped her as one of a forum of industry experts which meets several times throughout the year to collaboratively develop design ideas and provide feedback to Whirlpool on everything from design prototypes and marketing initiatives to customer service, in order to help guide this brand as super premium.
• In November 2012, Karla designed a 10'x21′ DIFFA (Design Industries Foundation Fighting AIDS) Dining by Design space for Jenn-Air. From overall concept to specifics, such as lights designed using Jenn-Air refrigerator handles and a dropped ceiling made of Jenn-Air oven racks, she took the space to completion. Jenn-Air executives were extremely pleased with the function (space needed to comfortably seat 20 people for a formal dinner, after functioning for 3 days as a cutting edge show piece) as well as the brand representation featured within the space.
• She has been twice, hand selected to participate in Whirlpool innovation "think tanks" for their various brands.
• Karla was a member of the NKBA's Marketing Committee (for 3 years) at the national level and a member (& 1 year Chair of) the NKBA's Technology Committee (for 5 years), also at the national level.
• She is a blogger for The Chopping Block, a recreational cooking school based in Chicago. She writes about her experiences with food, cooking and the important role the kitchen and design play within our homes.
• Karla is a member of Wendy Cohen's Chicago based, Powerhouse Smart group; a networking group geared to bringing together members of the design / home industries who focus on the high end market.
Personally, in Fall of 2011, she married her husband, an Elmhurst, IL native. They have 2 dogs, Tillie & Sadie, and a home on the north side of downtown Chicago. She loves to ski, snowshoe and skijor – and Karla swears her Minnesota roots reflect in her love of snow. Otherwise, her interests lie within cooking (with over 1000 hours of wine and cooking classes geared to the "home cook"), learning more about wine, entertaining and she is naturally intrigued and engaged by all things "home."
Karla Krengel always jokes that there have been so many Krengel family members in the Kitchen & Bath Industry, they don't need to hold Krengel family reunions, Krengels just head to K/BIS!
People regularly ask her about her family's industry history, so we are sharing some of it here: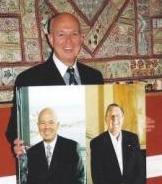 Ken Krengel
Karla's Dad, Ken Krengel started working as a teenager with his father's business, Kitchens by Krengel. After leaving to pursue his invention of saucer baskets for Disk Golf and other interests, Ken quickly realized that his true passions and talents were with the kitchen and bathroom industry. In 1980, he moved his family east, where he worked for Yorktowne Cabinets.  With his idea in hand, he left there shortly and founded Design Plus in 1981.  You see, he had this idea the kitchen design would be done by computers eventually.  Remember, this was 1981.  We weren't thinking that way yet, so he hired 2 guys, one of them from MIT and they created the first software to design kitchens by computer.  In 1987, he sold the company to Household Int'l, continued to at Design Plus, until he became a manufacturers' representative for Wood-Mode Fine Custom Cabinetry in 1990. In September 2011, Ken, and his wife Sandy, retired.
Ambition Above Average
Can you imagine kitchen and bath design without computers?  Yes, some kitchen and bath professionals still draw their designs by hand, but chances are most designers rely on computer technology for some aspects of their business.  Kets and quick turn-around times, computers have become more important than ever before.
Although most kitchen and bath designers know how valuable this technology is to their business and to the industry, they probably don't know that a fellow industry professional pioneered kitchen and bath design by computer some 20 years ago.
For this reason, among many nominees, Kenneth W. Krengel is one of only two professionals chosen to be inducted into the year's Kitchen & Bath Industry Hall of Fame.  Krengel was dually recognized for his outstanding services and long-term dedication to the kitchen and bath industry and the National Kitchen and Bath Association.
Although born and raised in a family immersed in kitchen and bathroom design, Ken wasn't always sure he wanted to take the same path in his future.  As a teenager, he tested the waters working for his father's company, Kitchens by Krengel, and eventually became a co-owner with his father, Bill and brother, Jim.
Feeling the urge to venture out and do something different after a few years, Ken sold his share with Kitchens by Krengel and left to pursue his invention of saucer baskets for Disk Golf and to explore other interests.
Ken, however, quickly realized that after more than 30 years in the industry, his heart, passion and talents were in the kitchen and bathroom business.  He moved his family from Minnesota to Pennsylvania in 1980 where he joined Yorktowne Cabinetry for one year, but soon found his entrepreneurial ambition surfacing again.
Ken had a vision for the future of kitchen and bath design and wanted to be the first to pioneer his idea.  Despite a lack of resources and the overwhelming odds against success, Ken wanted to be the first to pioneer his idea.   Ken wanted to use computer to generate kitchen and but design for the mass marketplace, a very ambitious idea at a time when computers were not mainstream, affordable or practical due to their size and imperfections.
Ken, however, struck off on his own, and began working out of his friend's basement until he acquired a small office in Red Lion, Pa and then move downtown York where he founded Design Plus in 1981.  Ken hired a computer programmer and an assistant, an MIT college student to generated kitchen and bath designs.
Since Ken's innovation was way ahead of its time and most people didn't even own computers, he sold his CAD program as a service, rather than as a software.  Dealers would fax their kitchen dimensions to Design Plus where Ken and his team would plug them into the computer and produce a set of computer generated plans.  It didn't take long before Sears and IKEA were among many other large companies taking notice and becoming clients of Design Plus.
Eventually Ken expanded his business to offer customers color illustrations of their future kitchen and /or bath and the option to choose their favorite colors, mood and styling for the room.  Additionally, customers could purchase DECO-BOARD, which based on a client's answers, would suggest proper appliance colors, flooring, countertops, paint, wallpaper and cabinet finishes.  Ken was thinking way ahead of his competition.
After several years building the overwhelming success of Design Plus, Ken felt it was time for yet another adventure.  1989 he accepted a position in the Midwest as a Manufacturer's Representative for Wood-Mode Fine Custom Cabinetry.  In just a few short years, Ken raised the rank of his territory to No.13 out of 22 and then to No. 2, where it remains today.  In the 14 years Ken served at Wood-Mode, he increased sales in his territory a staggering 1,600 percent, with the addition of an entire state, unmistakably showing his talent t and dedication of the industry.
In 1990, Ken came up with a concept to increased the presence of Wood-Mode cabinetry in Chicago.  He brought together several kitchen deles to pool resources to open a showroom called Smartrooms, which has become the repeated No 1 dealer of Wood-Mode cabinetry in the world.  Dealers are flown in from across the country to see the showroom, talk with Ken and learn innovative uses of cabinetry and new concepts.  Ken's commitment to Wood-Mode has earned him repeated recognition and awards.
Today, Ken continues his work in the Kitchen and Bath Industry as a Manufacturer's Representative for Wood-Mode.  (Note:  Ken retired in September 2011.)  His dedication to the industry also lives on through his children, the third generation of Krengels in the Kitchen & Bath Industry.  His eldest, Karla, has started Krengel Media which produces press releases and awareness for dealers and is also a columnist for Kitchen & Bath Design News magazine.  Ken's son, Steve, founded Kitchens.com and Cabinets.com, which offer free information to consumers and helps dealers establish an online presence through affordable Web sites.
Ken's work in the industry has no doubt impacted kitchen and bath design immensely.  His innovative aspirations, hard work and dedication through the years are a true inspiration to industry professionals around the world.
Ken will be inducted into the Hall of Fame at the NKBA Board of Directors' Gala at K/BIS on May 9, 2005 in Las Vegas.
Steve Krengel 
As a kid, Steve would take things a part just to see if he could put them back together.  He has a definite tech side and "got" the Internet and the impact it would have on our Industry and our world, long before the rest of us did.  In the mid-1990's, Steve secured Kitchens.com and Cabinets.com.  Great domain names to be sure!  Kitchens.com came first and the business started off by building web sites for kitchen and bath dealerships across the country.  Today, it is the leading web site for kitchen design and remodeling information.
Bill Krengel
Karla's "Grandpa Bill" founded Kitchens by Krengel on Grand Avenue in St. Paul, Minnesota in 1957.  "K by K," as they call it within her family, holds a long and rich history within our Industry.  But, the very beginning the family's "kitchen history," is probably owed to Karla's Great-Grandma Elsie (Pittelkow) Krengel.  As the family history lore goes, Great Grandma Krengel was a caterer for some wealthy families on Summit Avenue in St. Paul.  Her son Bill, watched her struggle getting around the kitchen, due to the layout, and lack of form and function in the room.  He thought he could lay a kitchen out differently, so it was easier for his Mom, to do what she loved to do, which was cook for others.  In the 1950's, after a short stint in media, Bill worked for Schuneman's department store in St. Paul, MN; designing and selling kitchens.  Here is an article about him – and the cost of a kitchen in the 1950's!
Key to kitchen success is planning  (Mart Magazine, circa early 1950's)
In the first year that Schuneman's St. Paul department store, operated a kitchen planning department, gross sales n the department added up to $100,000.  Fifty starter or complete kitchens were planned and installed and individual sales of counter tops, built-in appliances, and other kitchen fixtures swelled the total.
Chief contributing factor has been the planning of William Krengel, department manager.  Thorough planning, coupled with speed and installation accuracy, has instilled such confidence in customers that they seldom balk at price.
Customers approve
Customers like his original ideas, his step-by-step explanation and reasoning of each phase of the planned kitchen, and the businesslike way in which costs are figured and shown to them.
"I never give customers an unexplained lump figure for a kitchen job," Krengel says.  "Of course, I tell them the over-all figure, but at the same time, they are shown an itemized list of costs."
No "hidden" costs
When Krengel first goes to the home of a prospect, he makes careful notations on a check sheet.  Such items as "seal vent fan" or "doorbell" (hidden doorbell wires uncovered in the course of installing a cabinet mean extra removal charges) or "remove rubbish" all mean that Krengel will not omit a cost item in his estimate or later planning.
He does not fill in figures on the sheet during this first visit, but, because of his familiarity with the various itemized costs, he can total up these cots accurately for the estimate he then gives the customer.
Customers' obligation
"If the customer expresses a definite determination to proceed wit the kitchen, I make a finished plan for him," Krengel explains.  "He is not obligated to go ahead with the project, but he is obligated for the finished plan.  We make a charge of $25 for the plan if the customer decides at that point not to buy the kitchen.  If he signs the contract and work proceeds, he is not charged for the plan."
After plan is completed
When Krengel has completed the plan, he invites the customer to come to the store to look at the plan and also to view the model kitchens and displays at the kitchen center so that the customer knows what is being included in his own kitchen.
At that time, Krengel makes use of a second check sheet.  Krengel retains a third check sheet in his own file.  On it he has entered his own cost figures so that he knows exactly where the store stands on each job.  Any variation from costs, as itemized at the beginning of the project, is quickly and easily checked.
Guards against labor increases
He also has a copy of the kitchen plan designed for the customer.  He keeps this filed with the check sheet and a copy of the contract (which is filled in from the check sheet so that no item is omitted from mention and the customer knows exactly what he and the store have contracted).  The customer's copy of the pan is tacked up somewhere in the kitchen, together with the specifications of the job for the workmen to refer to at all times as work progresses.
To guard against the possibility of advances in labor or equipment costs, the contracts state specifically that work must be started within 60 days of the date of the contract.
Begin on Monday complete by Friday
When all material is at hand, Krengel notifies his sub-constrictor.  They were previously given the word, when the contract was signed, that their bids were accepted.  He tries to arrange for work to be gin on Monday and be completed on Friday so that the family in not inconvenienced over a week end.  The avererage kitchen costs $2,500.