Heading into 2014, blue is one of THE most requested colors
Who knew about blue?
Heading into 2014, blue is one of THE most requested colors in kitchen cabinetry.
Why?
To fully answer that question, we need to back up to white. White has been the most popular color for quite a few years. (Just ask any kitchen designer, ANY one will tell you they've designed more than their fair share of white kitchens!)
White has always been a popular color in cabinetry, because it is safe. You can have white cabinetry, but change out the design components around it, from the countertops to the tchotchkes to the knobs & pulls; you can easily change the focal point, add a pop of color or update the overall look via your white canvas of cabinetry.
White is also a very safe color choice in a down economy .. and I'm pretty sure we'd all agree we've been through one of those recently! In a down economy, when we're not sure if we are going to remodel, if we're going to sell the house, if we're upside down a bit on our mortgage.but, we can't stand the way the kitchen functions or looks any longer, many of us have turned to white cabinetry because our color commitment is perceived to last longer.
Then, black became the new white. Oh, it was short lived, but I definitely noticed an up tick in black kitchens. Personally, I think these are the most beautiful, elegant kitchens ever designed. I can't remember who the designer was, but he was out of the East Coast & he posted a black, traditional kitchen on his web site & it was by far, the most incredible kitchen I'd ever seen. It wasn't that is was large or had some way out there focal point. It was a high-end kitchen, with common bells and whistles. And then, I was walking through Ikea in Denver in July 2012 and sure enough, 3 black kitchens were on display there. But, black has huge drawbacks when it comes to cabinetry. If you are a clean freak, forget black. Black cabinetry shows every speck of dust – it would drive you nuts. If you do any cooking at all in your kitchen, one touch of the cabinet with even a slightly olive oil laced fingerprint & cleaning would commence. I know from experience. I had a black island in a kitchen I remodeled in CO and it was very difficult to keep clean. Hence, the black trend was very short lived.
Then, we moved onto Grays. Yes, they are still hot & everyone wants grays. In my book, grays became hot because everyone had seen a white kitchen..or 2 or 3 or 4 or 5..and black was the natural next choice, but it turned out to be better for little black dresses than a kitchen full of cabinetry. So, the next natural color was between the 2, and gray became popular.
Gray grew in popularity as well, in thanks to the Restoration Hardware remodel of their brand, which brought in many grays and grays with texture. (Today, we all want texture, whether actual or perceived, but that's an entirely different blog!)
Which brings me to blue. In cabinetry trends, we've gone from white to black to gray to.blue! And, it's not just one shade of blues we are seeing. No sir! We are seeing everything from teals to light grayish-blues, to navy blues. Even the cabinet manufacturer I work with, Greenfield Cabinetry, reports an increase in requests coming into the factory for blue finished cabinetry. Blue is a very complimentary color, and it could be argued as well that it is a natural extension of gray. So, it stands to reason that blue was the next color we were destined to see in cabinetry. The popularity in this color is definitely not coming from the people who choose & foresee color trends, that's for sure! Pantone's last 2 color choices have been Tangerine & Emerald & Benjamin Moore's 2014 color of the year is a purple.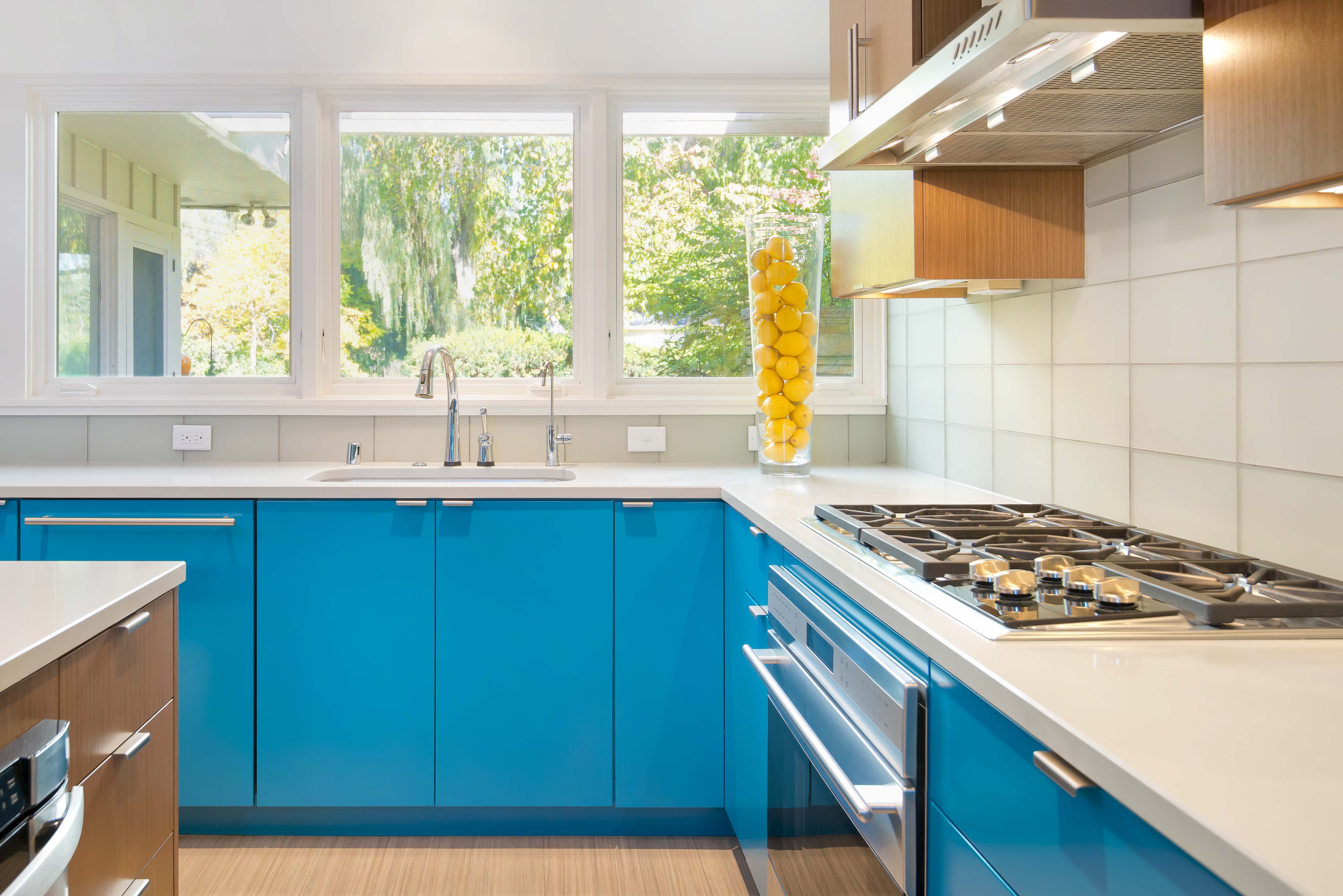 Yet, when it comes to blues, we need to take careful consideration. Blue does not reflect food well. Think about it – have you ever seen a fast food restaurant with a blue interior or a high end Chicago restaurant with a blue interior? My guess is no. That's because colors such as red & orange inspire hunger & blue inhibits it. Blue just simply reflects food poorly. Food is not as appetizing when surrounded by the color blue. And, we begin eating with our eyes. Think about the number of times you've seen a photo, just a picture of your favorite food. Your mouth begins to water. From blue paint on the walls of your kitchen or your dining room to blue dinner plates, it is not the color you want to choose to surround food. It's said that the exception to the rule is Mediterranean blue, because the Mediterranean countries are associated with food and the sea and many a fabulous terroir.
But, then again.rules are made to be broken. If you love blue, I say go for it. Personally, if I loved blue and just had to have it in my kitchen; I'd choose a different paint color, or most likely, a wood stain for the cabinetry on the perimeter of the room & then keep the blue below the countertop line and use it on the island.
And that is what I have to say on the 2014 trend topic of blue!